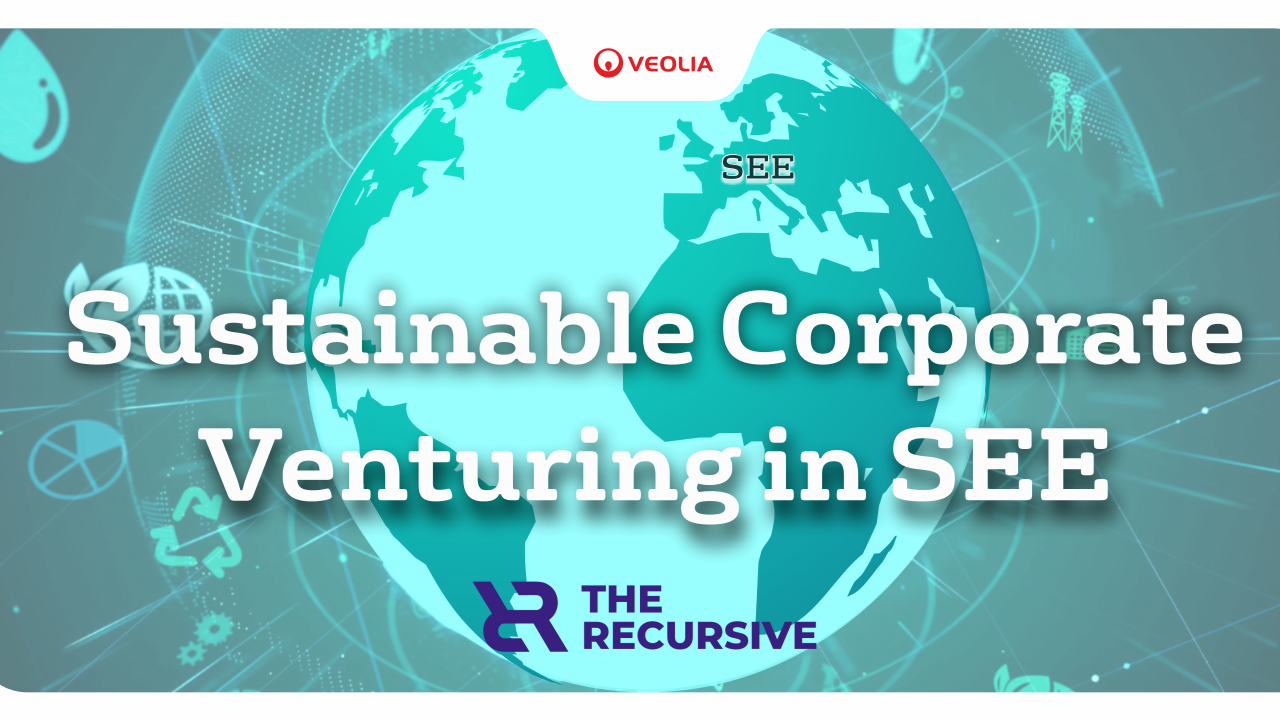 How does Veolia and other Corporates And VCs Work Together To Accelerate Green Innovation?
---
24.01.2023
The impact of green technologies on the environment is best achieved if done at a large scale. Pilot projects and working alongside corporate innovators are sometimes essential for sustainability startups to test their solutions and reach as wide a client base as possible.
On the other hand, ESG is becoming a focal point of interest for many VCs and angel investors. So, can corporate innovation and venture capital go hand in hand in their efforts to accelerate sustainable innovation across South Eastern Europe?
To show what is the value in incubating cleantech, greentech, and sustainability-related technologies in a corporate context, Sofiyska voda, operated by Veolia, and The Recursive are holding the hybrid event "Corporate Venturing in SEE for Sustainable Startups" on January 26, 2023 at Pirotska 5 Event Center.
Together with corporate innovation leaders, VC investors, and cleantech founders, Sofiyska voda, operated by Veolia, will showcase what are the best practices for regional collaboration.
All participants will explain how corporations can support the growth of local sustainability startups by connecting them to relevant stakeholders in venture capital in Southeast Europe and beyond.
"Corporate Venturing in SEE for Sustainable Startups" event will take place in-person and online. The programme provides interesting panel discussions, startup pitches, and networking time
"The green start-up support and scaling have to be a collaborative effort among the corporate living lab environment, the VCs' long-term investment vision, and a proper legal framework in place," Lyubomir Filipov, Strategic Partnerships and Regulation Director at Sofiyska voda, operated by Veolia, shares.
The Veolia's corporate innovation initiatives
Back in 2020, Veolia and the Bulgarian accelerator and seed fund Innovation Starter started a partnership aiming to support local sustainability startups.
What to expect during the event?
"Corporate Venturing in SEE for Sustainable Startups" will feature two panels on the topics "How corporates work with startups" and "Financing opportunities for startups". The discussion will be moderated by Irina Obushtarova, Founder and CEO of The Recursive, and will include insights from corporate innovation leaders and startup investors including Francois Debergh, Country Director of Veolia for Bulgaria, Representative from Aurubis, Manyu Moravenov, Director of the Bulgarian Stock Exchange and BEAM for SMEs, Viktor Manev, co-founder and Managing Partner of Impetus Capital, and others.
Besides panel discussions, the event will also include two startup pitching sessions for teams with sustainability projects who have worked together with corporate innovators. Some of them are Vodoraslo, Sensato, and Gridmetrics. The participants can enjoy some networking time after the discussion.
Interested corporate innovators, startup founders, sustainability enthusiasts, investors, and representatives from the regional innovation ecosystem can register for free online or in-person attendance here.